WATCH: Weekend Movie Trailers!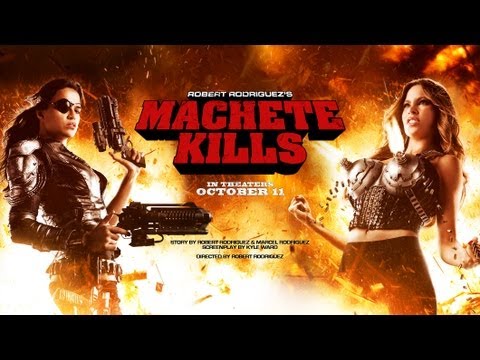 1. "Machete Kills" (R)
Danny Trejo IS Machete. In the sequel, he's asked by the President to go to Mexico and stop a terrorist from starting a nuclear war. Mel Gibson plays the main villain, and Charlie Sheen is the president!
This movie includes a few firsts. It's the first time in Charlie's career that he's been credited under his TRUE name, Carlos Estevez . . . it's the first time Mel Gibson has been cast as the villain . . .
And it's Lady Gaga's acting debut. She plays an assassin called the Chameleon, whose other faces include Antonio Banderas, and Cuba Gooding Jr.
Sofia Vergara runs a brothel which has 25-year-old "Spy Kids" star Alexa Vega strutting around as one of her sexy harlots. And if you've seen the trailer then you know Sofia rocks a machine gun that shoots bullets FROM HER CHEST!
Michelle Rodriguez and Jessica Alba are back from the first movie, and Amber Heard plays Machete's government handler. Vanessa Hudgens is also in it.
2. "Captain Phillips" (PG-13)
Tom Hanks plays Captain Richard Phillips, the guy whose ship was hijacked by Somali pirates in 2009. It's based on the true story about the military standoff that ensued as they held him hostage while the crew stayed locked in the engine room.
The taking of his freighter, the Maersk Alabama, was the first time an American cargo ship had been hijacked in nearly two hundred years.



3. And now, some limited releases you may or may not care about:
--"Romeo and Juliet" stars 16-year-old Hailee Steinfeld from "True Grit" as Juliet and a guy named Douglas Booth as Romeo. "Homeland's" Damian Lewis is Juliet's father. And Paul Giamatti is the friar Romeo confides in. (Trailer)
--"CBGB" stars Alan Rickman as the owner of the New York club that's considered the birth of punk . . . helping to launch bands like Blondie, the Ramones, the Police, the Talking Heads, and Iggy Pop. "Twilight's" Ashley Greene is also in it. (Trailer)
--"Sweetwater" is a western starring January Jones as a widow out for revenge against the men who killed her husband. Jason Isaacs is the villain, and country singer Jason Aldean makes his acting debut in it. (Trailer)
--"The Inevitable Defeat of Mister and Pete" is about two kids dodging child protective services and living on their own in the Brooklyn projects. The adult cast includes Jennifer Hudson, Jordin Sparks, and Anthony Mackie. (Trailer)
--"All the Boys Love Mandy Lane" stars Amber Heard as a girl whose friends are being killed off by a stalker during a weekend at a secluded ranch. (Trailer)
--"Escape From Tomorrow"
is that low budget horror movie set at Disney World about a Disney trip that goes HORRIBLY WRONG. It was shot at both parks, without
permission, but Disney chose not to stop it from coming out. (Trailer)
*What looks good to YOU?!!

Chris Davis received his calling to radio in his early teens. Driven by his entrepreneurial spirit, he launched what quickly became a highly sought after mobile DJ & entertainment company his junior year of high school. His natural ability to entertain, combined with his rapid success in business, immediately grabbed the attention of radio stations in his Kansas hometown and he has been working in the business ever since. Chris is a lover of fitness, philosophy, meditation and animals. He spends much of his time spoiling his three canine kids.