[WATCH] Man gives his fiance her childhood teddy bear for Christmas. Check out her reaction.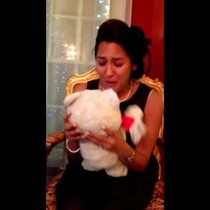 Posted January 28th, 2014 @ 9:34am
What a great story. After an exhaustive search, Vas Alli gave his Fiance a gift he knew would have true meaning to her....the teddy bear from her childhood. After having it repaired and restored he presented it to her on Christmas with this touching reaction. As soon as she smelled the teddy bear, she knew.